Food is the ingredient that binds us together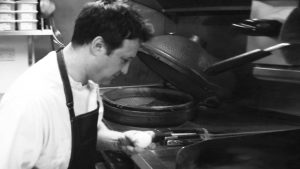 Riverhill Courtyard restaurant and bar aims to be a family orientated restaurant offering breakfast, lunch and dinner with the familiar Riverhill twist. It gives the chefs the platform to showcase the eclectic world food that they champion, with focus on seasonality, provenance and foraged ingredients.
A dining experience like no other, Riverhill Courtyard offers a bold & refreshing take on traditional cuisine.
Johnny talks about the importance of ingredients and seasoning,
Mise en place is a French culinary phrase which means "putting in place" or "everything in its place". It refers to the setup required before cooking. At Riverhil we acknowledge, as you must, that there is no such thing as perfect food, only the idea of it, then the real purpose of striving toward perfection becomes clear: to make people happy, that is what cooking is all about.